A hot-air balloon safari is an awe-inspiring inclusion to a South African holiday. It's exciting and energizing, and it offers unbeatable bird's-eye-view sightseeing. Bill Harrop's "Original" Balloon Safaris lend new and thrilling meaning to the old adages On Cloud Nine and Every Cloud Has a Silver Lining. So why not Send up a Trial Balloon, so to speak, by trying out a balloon safari for yourself!
Hot-Air Ballooning Way Back Then: Some Delightful Facts
A curiously populated hot-air balloon took to the skies in 1783 – the brainchild of  the Montgolfier brothers. The passengers, would you believe, were a rooster, a sheep and a duck. Yes! It sounds rather like Noah's Skyship … (The sheep, incidentally, was called Montauciel – "Climb-to-the-sky"). Since this early "unmanned" hot-air balloon flight and its less than quarter-hour of airborne glory, ballooning has come a long way. By the 1970s and 80s the first balloons were making it across the Atlantic and the Pacific, and in 1999 the first round-the-world hot-air balloon flight was accomplished. Nowadays, hot-air ballooning is a sophisticated and elegant adventure, and a definite bucket-list holiday item.
Hot-Air Ballooning in South Africa
"If you're going to do it – do it in unassailable style", is the suggestion of Bill Harrop's "Original" Balloon Safaris. Bill Harrop runs a magnificent operation in Gauteng, making each and every balloon ride an unforgettable celebration. Sip fine bubbly as you float above the treetops, and higher still in the company of the clouds. Glide above the ancient Magaliesberg Mountains in the Cradle of Humankind World Heritage site, and be amazed at the world around and below you. After landing, enjoy a champagne breakfast at the Bill Harrops Clubhouse, Pavilion and Restaurant.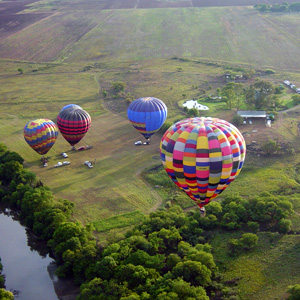 Bill Harrop's "Original" Balloon Safaris is the oldest hot-air balloon operator in Southern Africa. Do a balloon safari departing from the Bill Harrop's Skeerpoort Country Base in the Cradle of Humankind or at select private game lodges. Game viewing from the air is a most thrilling adventure! The flights are run 7 days a week, weather permitting.
A hot-air balloon safari makes a wonderfully romantic treat, incentive activity or team-building adventure. This is positively the best way of having your head in the clouds!
Mail us to book or call +27 21 797-7122. View our accommodation choices in South Africa.