Anchored on a neatly vine-combed estate in the gorgeous Franschhoek Valley, Mont Rochelle is a place where, most certainly, you will sleep, eat and drink generously as you live on the grand land of the vine. This is Sir Richard Branson's personal hotel and vineyard – a perfect place to sleep, eat and drink.
Accommodation
Sleep, perhaps, won't be top of your list on a winelands getaway, but please know nevertheless, that Mont Rochelle is a beautiful place to bed down. A lusciously comforting room is a huge enhancer of any stay in the vineyards.  So take your pick: there are sixteen bedrooms and six divine suites, all havens of comfort and privacy. The room types, very aptly, have been baptised shiraz, merlot  and cabernet, whilst the suites answer to the names of pinotage, reserve and cap classique!
There's hardly a thing you could want for.  Temperature control, underfloor heating throughout (so wonderful when you step out of the bath), heated towel rails, mini bar, satellite tv, dvd player, telephone, safe, hot beverage tray, bathroom amenities – they all help to keep you comfy and cosy.
Dining
Eat means several things at Mont Rochelle. One of them is variety, in part because there are two quite distinct restaurants. At Miko in the main complex, you have the gorgeous valley to swoon over, and fine gourmet meals to enthuse about.
Somewhat more casual and 'drop-in', though no less appealing, is the Country Kitchen, situated in the wine cellar.  It's just right for an outdoor lunch – meander through the vineyards to get there on a good day, or a cosy dinner. You can do your wine tasting at your table, to find the perfect partner for the dish you've ordered.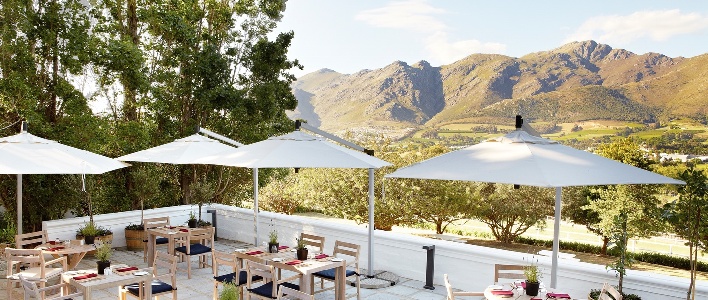 Yet another way to eat at Mont Rochelle is to scamper off to a quiet spot by the dam or in the garden, armed with a picnic hamper and blanky supplied by the Country Kitchen.
Wine
16 Hectares of the Mont Rochelle estate are under vines, flourishing at the moderate hand of the area's near-Mediterranean climate.  The boutique cellar lays claim to 150 years of history and currently processes 110 tons of grapes in a season.
Taste and tour at Mont Rochelle, as follows:
Cellar tours:
At 11h00, 12h30 and 15h00 on weekdays.
A private tour by the winemaker can also be reserved.
Tasting hours:
Daily from 10h00 to 19h00.
And for the rest:
When you're not sleeping, eating or drinking, you could be vitalising yourself at the gym – always open, indulging at the wellness centre (please book in advance), swirling about in the pool and enjoying the views or nodding off on a lounger, biking in the mountain or seeing the sights of the beautiful winelands on horseback.
Mail us to book, or call 0860 102 907 (local) or +27 21 797-7122 (international).